MARYSVILLE! SAN FRANCISCO! LOS ANGELES! Oh, My!
We're happy and proud to announce our limited theatrical release made possible by our lovely Kickstarter backers is a resounding success!
We kicked off our opening weekend with two screenings in Marysville, CA near director Emily Lou's hometown of Yuba City. Emily, Gabe, and Etta were all on hand to met lots of great folks, sign some DVDs, and meet an Edgar Allen Poe impersonator!
Next up we had two screenings at the Opera Plaza Cinema in San Francisco on Saturday followed by our after party at the super fun bar/restaurant "03" where we got to kick back with many of our wonderful Kickstarter backers.
It was back on the road after that to Los Angeles for our big event at the historic Egyptian Theater in Hollywood, CA on Monday. We started off the evening with a fantastic (if we do say so ourselves) pre-screening reception with Kickstarter backers and cast and crew with live music from the movie's composer Geoff Mann and margaritas from our super cool alcohol sponsor Dama Tequila.
We got to meet and take pictures with lots of Kickstarter backers before going into the beautiful Egyptian Theater and watch our movie projected onto the largest screen it's ever been shown on with the largest crowd in attendance.
We followed up the screening with a Q&A with Emily, Gabe, Etta, Barry Bostwick, Janet Varney, Simon Helberg, and Jonathan Klein.
Cinematographer Matthias Schubert, editor Chad Merserve, and opening titles animator Ryan W. Kimball (whom we had never met before and had flown out from Atlanta for the event) joined us onstage to talk about their part in the process.
It was without a doubt the biggest event with the largest amount of cast and crew in one place that we've ever had. It was so great it gave us all demon eyes.
A wonderful night all made possible by YOU, our Kickstarter backers.
Friend of the film HOT NERD GIRL did a great write-up of the evening on her blog.
And the next day this review popped up from NERD CITY with this quote: "Not only THE funniest indie in years, 'The Selling' is also one of the best horror coms…pretty much ever." 
But it doesn't stop there! This Friday our friends at the Maelstrom International Film Festival hosted a screening in Seattle and then on Saturday Emily hopped on a plane to Wichita for a screening at the beautiful Orpheum Theater.
NEW SHOWS ADDED!
We're thrilled to announce two new theatrical events in November! The first will be November 7th in Salem Oregon at the Salem Cinema at 7PM with writer/actor Gabriel Diani in attendance. Tickets available at the box office. Click here for box office hours and address.
Director Emily Lou will be on hand to chat with the audience in Fairfax Virginia on November 15th at 7pm at the Cinema Arts Theatre. Ticket info coming soon!
DVDs COMING SOON!
We've got the DVDs and will be printing out mailing labels tomorrow night so IF YOU HAVEN'T FILLED OUT YOUR SURVEYS DO IT NOW!!! We want you to get your DVD! Also, we'll be picking up the Barry Bostwick signed MEGAFORCE pics this weekend and we'll be working on all the rest of the incentives in the coming weeks as well.
SPREAD THE WORD
We've been honored and humbled by the amount of support we've received from everyone on this project. We keep running into people who have seen the trailer on iTunes who didn't know us or who we are. Rate and review the movie on Amazon, iTunes, Vudu, Blockbuster, and IMDB and tell folks they can by them on all those platforms as well as our website and anywhere else you see it. We'd love to see pics you've taken of anything to do with the movie on our facebook page http://facebook.com/TheSelling. Everyone who has seen the film says they believe it will become a cult classic. If the word keeps spreading they may be right!
Backer Artwork!!!
Did we mention we have the best backers in the world? Well, in case you were skeptical, here's the proof. Backer of the project and cartoonist Jasmine Pinales had such a good time watching her digital download that she drew this picture of Richard Scarry from a scene in the movie. Check out more of her artwork on her website.
Diani & Devine at APE
Etta and Gabe were at APE (Alternative Press Expo) this weekend selling their book ADVENTURES OF HUCKLEBERRY FINN [ROBOTIC EDITION] and promoting THE SELLING.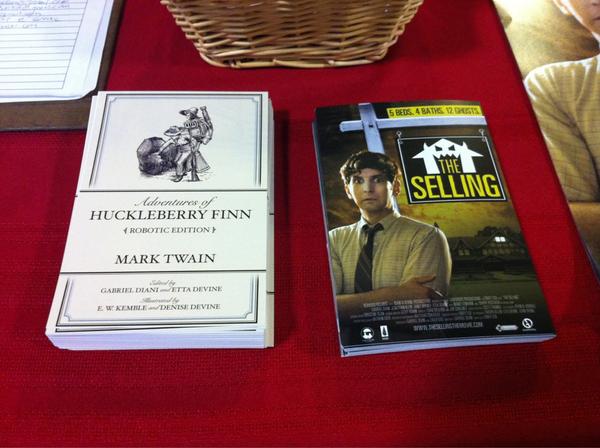 They talked with a lot of great people including some Kickstarter backers and folks who had seen the trailer on iTunes!
Here's an interview they did with THE GEEK SPEAK SHOW

Press 
Dread Central covered our digital release, Gabe did an interview with the good folks at Disturbing Films, and Vudu is offering the movie at a discounted price for Halloween. Even if you already have a digital download of the film it is worth clicking on the link to see Loretta Devine and a guy who is not Jonathan Klein being misattributed to the film.